Separating fact from fiction on Medicaid coverage, enrollment and costs
Chances are that you've heard of Medicaid, but do you know what Medicaid is? If you answered that question with a 'no' — don't worry, you're probably not alone.
Medicaid is a state and federally funded program that provides health coverage to eligible low-income adults (including pregnant women) at or below 54% of the federal poverty level, children, adults age 65 and older and people with disabilities.
Despite being the single largest source of health coverage in the U.S. and covering 1 in 5 Americans, there are a lot of misconceptions about Medicaid. According to recent statistics from the Centers for Medicare and Medicaid Services (CMS), nearly 71 million people were enrolled in Medicaid and the Children's Health Insurance Program as of March 2020 — thereby receiving health coverage benefits that they would otherwise have difficulty receiving and paying for on their own.
Let's look at four facts about Medicaid you might not know:
1. Medicaid coverage is very affordable. Medicaid plans are typically little to no-cost, and include additional benefits, like transportation assistance, certain mental health services, vision, dental and more. Also, children, infants and pregnant women may qualify for different Medicaid programs based on their circumstances, which means individuals in the same family may have access to unique coverage under different plans.
2. You can enroll in Medicaid at any time. Medicaid enrollment is open all year long. If your income significantly changes, you may be eligible for Medicaid even if you were not before. Because there is not a set enrollment period, you can see if you qualify for Medicaid at any time. This is particularly important right now as many people have found themselves out of work or experiencing a significant decrease in their household income due to the COVID-19 pandemic.
3. Medicaid plans often include unique programs. Every state's Medicaid program is different, but all programs are required to provide certain mandatory benefits like inpatient and outpatient hospital services, home health services, and physician services, but oftentimes Medicaid plans include additional benefits that help recipients live happier and healthier lives.
For example, Priority Health's Medicaid program, Priority Choice, has a smoking cessation program, a diaper incentive program — new moms who go to their 6-week checkup will get a free pack of diapers — and a group pregnancy program for both pre- and post-natal care.
4. There is a difference between Medicaid and the Healthy Michigan Plan. In Michigan, the Medicaid expansion is called the Heal
thy Michigan plan. While traditional Medicaid provides health care coverage for people of all ages with low income, the Healthy Michigan program offers low to no-cost health coverage to adults age 19-64 who do not qualify for or are not enrolled in other Medicaid programs or Medicare and whose income is at or below 133% of the federal poverty level.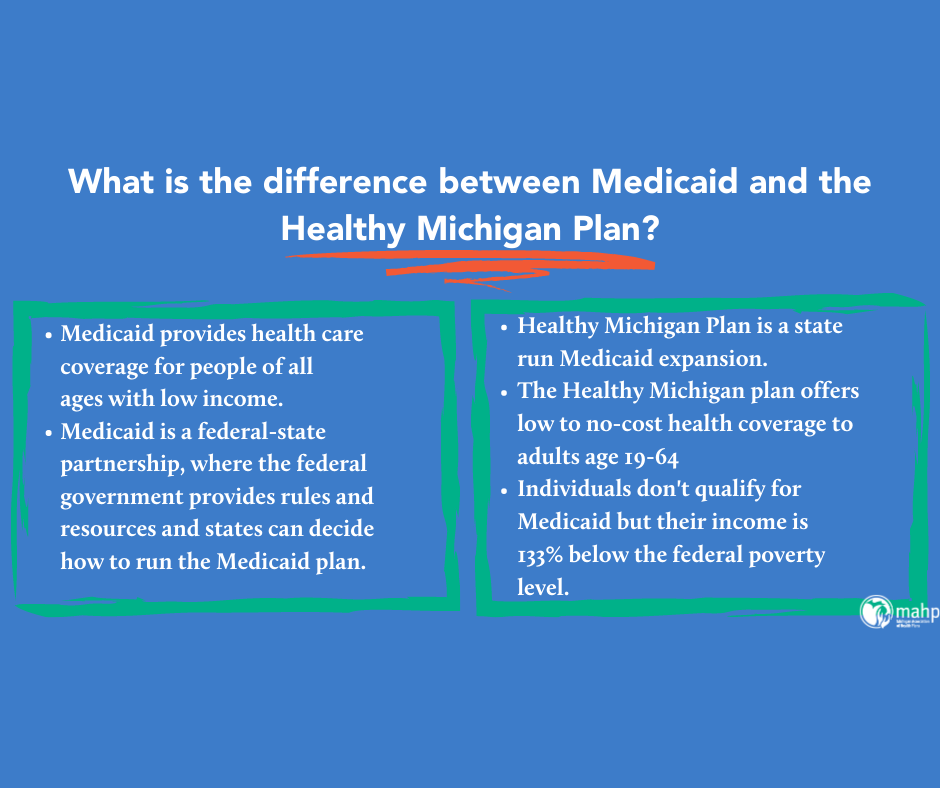 Ready to see if you qualify for Medicaid? It's as simple as following these 3-steps:
Visit MIBridges or your local Department of Human Services office. They'll help you make sure you're eligible for a Priority Health Choice plan.
You'll get your MIHealth card in the mail.
Call Michigan Enrolls at 888.367.6557 (TTY users call 711) and ask to get your coverage through Priority Health. If you don't select a carrier, one will be auto-assigned for you, so be sure to call.
Priority Health offers Medicaid, including MIChild, Healthy Michigan Plan and Children's Special Health Care Services (CSHCS) plans for individuals and their families in Michigan.
This article was first featured on the Battle Creek Enquirer, read more here